Ladies Teams win Summer and Winter Leagues
Congratulations to our Mens I who won both their Summer and Winter 2021 leagues.
The picture shows the Womens team Andjelka, Lynne, Amanda and April, who received the winners certificates on behalf of all the womens team members from Peter Fleming at the Leicestershire Tennis Association Awards Evening.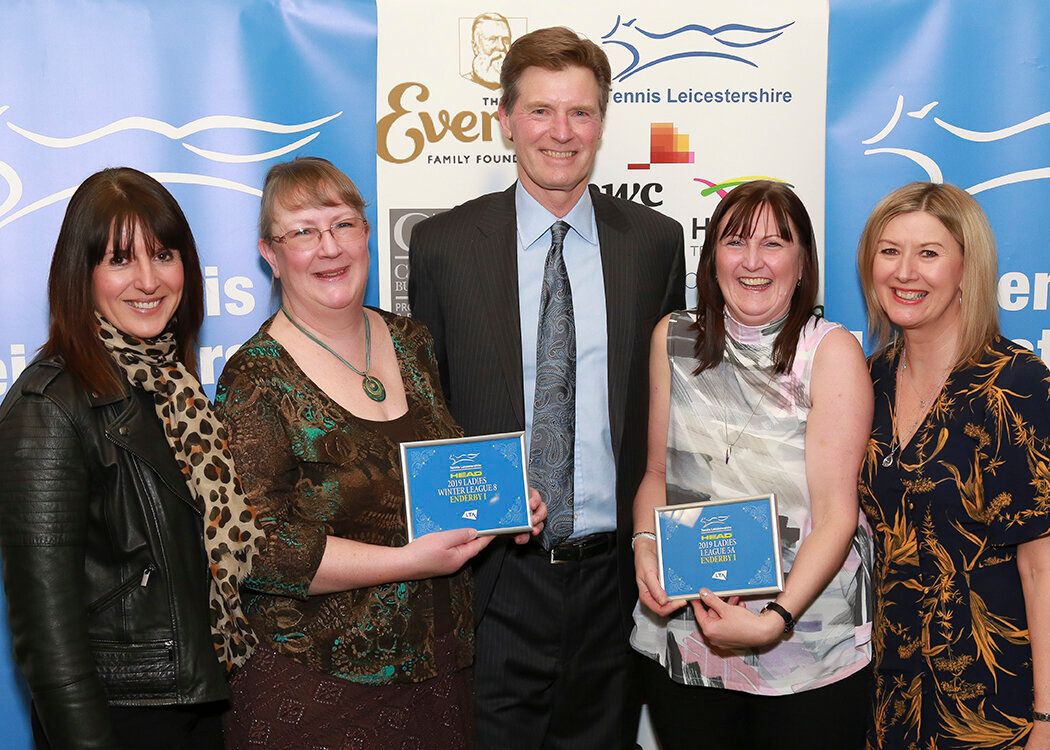 At Enderby Tennis Club there are 13 senior teams involved in summer or winter leagues.
The County Summer Doubles 2022 league fixtures for each team are available from here.
League positions and results are available from here, - this will take you to the Enderby Lawn Tennis Club section of the LTA Leicestershire County Summer Doubles Leagues site.
The Vets results are available from here and the Supervets results are available form here.
County League Summer and Winter Teams
1 Ladies Summer Teams - Group 5B
2 Ladies Winter Teams - Group 8 & 10

2 Men's Summer Teams - Group 3A & 6B
2 Men's Winter Teams - Group 4 & 7
2 Mixed Summer Teams - Group 5B and 6B
Vets
2 Ladies Vets Team (over 40) - Group 6 for both
1 Men's Vets Team (over 40) - Group 5
Supervets
1 Men's Supervets Team (over 60) - see Steve Ince Tel. 0116 286 2675 Email. ince.stephen16@gmail.com
Men's Selector Matt Stevenson Tel. 07716 362 658 Email. twird2002@yahoo.co.uk
Ladies' Selector Lynne Meredith Tel. 07849 615 373 Email. meredlynne@googlemail.com
Matches
In the summer and vets leagues (excluding the super vets) each team will play between 7 and 9 matches, a mixture of Home & Away.
The mixed and winter leagues usually consist of 5 and 7 matches respectively.
Match fees of £3 are payable for both Home and Away Matches, Fees are collected at the end of the Summer and Winter seasons based on the number of matches played.
Each summer & mixed team consists of 6 players (3 pairs) and each pair plays 3 sets, 1 against each pair from the opposition. Each set is to 8 games with a 7 point tie-break at 7-7.
The winter and Vet's team consists of 4 players (2 pairs) and each pair plays 4 sets (each to 6 games), 2 sets against each pair. If the match ends at 4 sets all then a 10 point match tie break is played between 1 pair from each team of their choice.
New balls are provided by the club for each match.
If bad weather is likely to prevent play then the captains should liaise with the players and decide whether to re-arrange.
Matches are a great way to meet new people, play competitive tennis and most importantly have fun and enjoy yourself.