Welcome

Enderby Lawn Tennis Club is a small and friendly tennis club and we welcome players of all ages and abilities. Situated opposite Enderby Leisure Centre, we have 3 all weather floodlit artificial grass courts to allow all year round play. Get full directions on Google Maps.

We run several social club play sessions every week, the main sessions are on Wednesday and Saturday mornings from 10am to 12 noon. Come along and join us at one of our social sessions where you will be able to meet some of our members and find out what Enderby Lawn Tennis Club has to offer you.
We have a thriving junior section with a popular junior programme on Monday evenings throughout the year. The Club provides excellent competitive opportunities year round for all ages and abilities with both Adult and Junior teams competing in the Leicestershire Leagues.
We also have our own yearly Club Championships for both our Adult and Junior members. We have a qualified Coach offering a full coaching programme.
You can contact our Club Secretary, Rob Dakin, on 07484 825740 or email him at Enderbytennis@gmail.com or use this form. Alternatively you can email or talk to any of our committee or visit us on Facebook.
Public use of tennis courts
Visitors may use the courts when they are not being used for Matches or Club Play. The court key is available from the Enderby Leisure Centre at a cost of £4 per hour per adult and £2 per hour per junior. There is a £5 deposit which is refunded on return of the court key.
Club Championship Finals for Seniors and Juniors - Sunday 17th September
Our club championship finals are being held on Sunday 17 September and this year for the first time both the Seniors and the Juniors finals will be on the same day. It is a great day of tennis and everybody is welcome to come down and see some exciting matches to rival those of the US Open. There will be mens and ladies singles, mens and ladies doubles, mixed doubles and the mens over sixties doubles plus all the Junior finals, a full schedule of tennis mastery on display at your local club.
Like the US Open we are going to have a new Ladies singles champion this year with Ashlie taking on Tash. We are also going to have a new Mens singles champion with Russell or Andy playing Matt or Eliot.
The schedule is:
10am - Mens singles and Ladies singles
12 noon - Mens doubles and Ladies doubles
2:30 pm - Mixed doubles and Mens Over 60s doubles
The Enderby Juniors will be playing their finals on Court 3 while the Seniors use Courts 1 and 2 for their finals. It will be great to see all the club finalists in action on the day. Everybody is welcome to come down to watch and support all the players on what promises to be an action packed Sunday.
The Junior finals timetable is:
10:00 am - Mini Red
10:30 am - Mini Orange
11:30 am - Under 14
1:00 pm - Under 18 boys
2:00 pm - Under 18 girls
Tennis Open Day and 80th Anniversary Celebrations - Saturday 24 June
We had a fantastic Open Day and 80th anniversary celebration for our tennis courts. The weather was wonderful, the bunting, flags and balloons made everything look really cheerful and it was non stop action with lots of children and parents playing tennis on the full size and mini courts.
Plenty of people had a go at guessing the number of balls in the barrel and the spot the ball competition created lots of amusement for young and old alike. We sold out of our BBQ sausage buns (ably cooked by Geoff), and there was a massive range of cakes (plus strawberries and cream) eaten in the comfort of the club house and washed down with plenty of tea and coffee. Nobody went away empty handed, with everyone getting a goody bag to enjoy later as a reminder of the fun had playing tennis.
We are a small, friendly tennis club and welcome new players of all ages and abilities. To encourage new members the club is offering 8 weeks of tennis for a whole family for just £29. It is a great way to try tennis, meet club members and to get to try out what the club has to offer like social tennis, club tournaments, coaching, inter club league matches and social events. For full details click here - it will take you to our Summer Club Saver dedicated site.
Our courts, built in 1937, came about with the help of three kings - you can find the full story here.
Special thanks to Enderby Parish Council and Blaby District Council for providing valuable support to us for our 80th anniversary celebrations. Also thanks to all the volunteers on the day, the cake bakers, the gazebo builders, the stall holders and to Andy for the great photgraphs - without you the open day would not have been so magnificent.


.






Summer Club Saver - £29 for 8 weeks of tennis for the family
To encourage new members the club is offering 8 weeks of tennis for a whole family for just £29.
It is a great way to try tennis, meet club members and to get to try out what the club has to offer like social tennis, club tournaments, coaching, inter club league matches and social events.
For full details click here - it will take you to our Summer Club Saver dedicated site.

Enderby Singles Tennis League 2017
The three singles leagues finished on Sunday 28 May and a total of 45 matches played, which means 85% of all possible matches were played after allowing for the two withdrawals – a really great performance.
11 of the matches required a third set or a tie break so plenty of very closely fought matches. Andy clearly loves a long game as he was involved in three of the tie break matches (and one day he even played epic back to back matches, one a third set tie break win and the other a 7-5 loss in the second set). Sarah was also involved in some marathons playing two full three setters and just coming out on top in both.
There were other dramas too. The desire to get the bonus two points meant a lot of matches were scheduled in the early weeks and most managed to get those valuable points. In the end, there was only one point between the winners and the runners up for each of the leagues. The Yellow League top spot was very much in the balance and Eamonn only just held on from Tony as Tom managed to beat Tony without dropping a set (having gone to a marathon tie break in the first set), any other result would have meant Tony coming out top.
Congratulations to the league champions: - Russell for the Blue League, Sarah for the Red League and Eamonn for the Yellow League.
The runners-up in each league are: - Eliot for the Blue League, Josh for the Red League and Tony for the Yellow League.




ELTC at Health and Wellness Fair
The tennis club had a stand at the Health and Wellness Fair held by the Baby District Council at Enderby Civic Centre on 12 May 2017. The Fair was supported by Cancer Research UK and NHS and there were lots of free events and information about health and wellbeing.
The stand promoted the Summer Club Saver offer of 8 weeks of tennis for a whole family for just £29. There was also the opportunity to win a free one hour coaching session with Tom. Our stand was manned by Eamonn Canavan, Steve Ince and Rob Dakin and had the centre page Journal article about our courts 80th anniversary on display. It was a useful day and we got some great contacts which will help the future development of the club.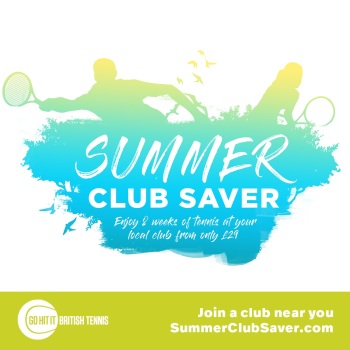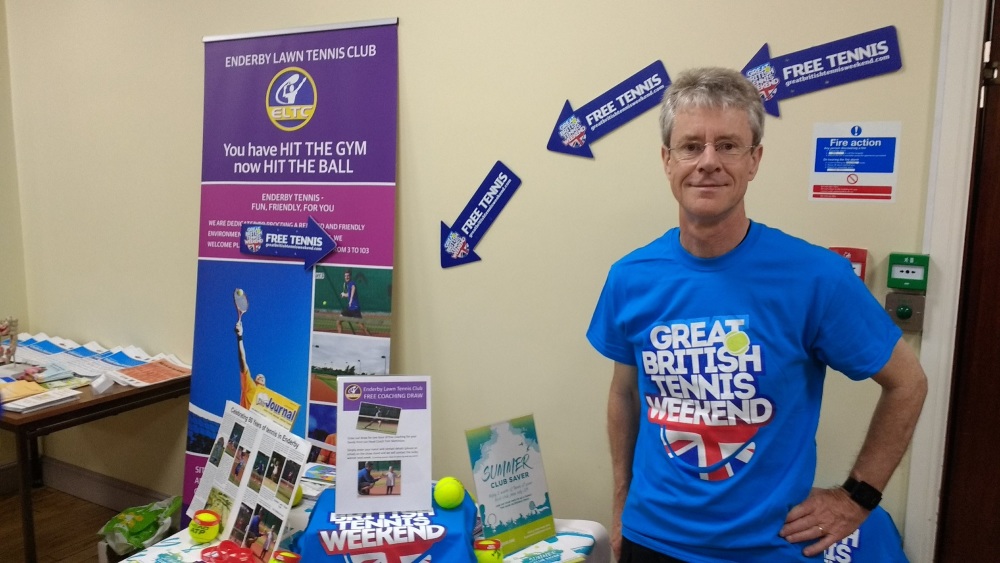 BBC Radio Leicester comes to Enderby Lawn Tennis Club for 80th Anniversary
ELTC got its five minutes of fame this week (Wednesday 19 April 2017) on the Ben Jackson show when BBC Radio Leicester reporter Andy Trigg visited the club on a beautiful Wednesday morning and interviewed our chairman Steve Ince about the club and it's 80th anniversary. The interviews were done live and on court, just like Wimbledon. You can listen to a recording of the interview (and hear the balls in the background) here. You can read the full story of how our courts came into being with the help of three kings in 1937 here.
Andy also chatted to Pat Stephenson, our oldest member at 87 years of age, and to Liz Ardley about the fun and enjoyment of playing tennis for players of all ages and abilities. The interview was heard as far afield as Australia.
We have invited BBC to come along again to our 80th anniversary celebrations and open day on Saturday 24 June.

Our roving photographer Niall Canavan took some pictures of Steve, Pat and Liz who all did a great job promoting the club and encouraging everybody to come out and enjoy playing tennis. Now they know what it is like to be faced with a BBC mic and they performed brilliantly.






ELTC - Promoting our membership - 80 years of tennis at Mill Lane
2017 marks the 80th year since the tennis courts were laid down in Mill Lane in 1937 and we have been busy letting people know about our upcoming celebrations which will be on Saturday 22 July. Further details will be posted over the coming months.
"The Journal" April 2017 edition have kindly published a centre page spread all about our upcoming 80th anniversary (see a copy of the article here). For those of you not familiar with the Journal it is a community based magazine that is published monthly and circulated to all homes in Enderby, Huncote, Narborough, Littlethorpe and Thurlaston and has a circulation of nearly 8,000. Hopefully plenty of budding young and older tennis players will see the article and come to join us on our courts over what promises to be a glorious summer of tennis - they will be given a very warm welcome.
We have also produced leaflets and a free standing banner to promote club membership.
The banner was in Enderby Leisure Centre (see photo below left) for a number of months in 2016 and will be moving to new locations in 2017.
The leaflets are double sided A5 (see copy below centre and right) and have been distributed to local libraries and leisure centres in Enderby, Huncote and Braunstone. We are also putting leaflets in some local employers offices and are doing a leaflet drop into houses in Enderby. If you know of any other places that we could promote our club please contact one of the committee.



Club Tournament Winners 2016
The Club Tournament Finals were held on a sunny Sunday 18th September and an appreciative crowd of spectators enjoyed the keenly contested matches.
Thanks to Ted Ardley for the superb organisation of the event, we couldn't have asked for better weather. Also thanks to Dan Fridlington, our master chef on the BBQ.
Photos of the finalists are available
here.
Our club champions are:
Ladies Singles - Sarah Freer
Men's Singles - Matt Stevenson
Men's Doubles - Matt Stevenson & Alex Oldham
Ladies Doubles - Liz Ardley & Sarah Freer
Mixed Doubles - Matt Stevenson & Lynne Meredith
Men's Veterans Doubles - Tony Lemmon & Steve Ince